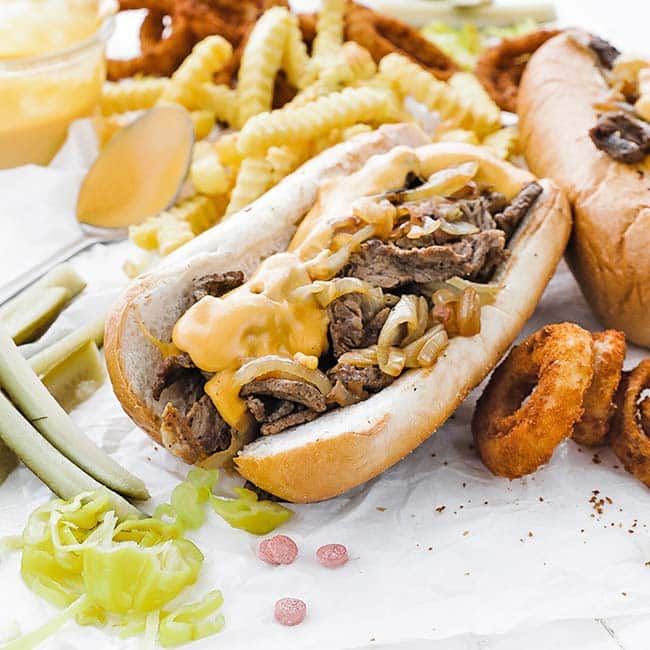 Ingredients
1 cup shredded sharp cheddar cheese
1 cup shredded American cheese
1 tablespoon cornstarch
1 teaspoon garlic granules
1 teaspoon ground dry mustard
12 ounces evaporated milk
sea salt to taste
3 tablespoons clarified butter (ghee)
2 peeled and sliced yellow onions
2 pounds thinly sliced ribeye steak
4 8 " buns
sea salt and pepper to taste
Instructions
For the Sauce: Add all of the ingredients to a medium-size pot and cook over low heat stirring often until hot and thick. Keep warm.
Add 1 ½ tablespoons of clarified butter to a large frying pan or flattop over medium-high heat and cook the onions until lightly browned and soft, about 10 minutes. Set to the side.
Add the remaining 1 ½ tablespoons of clarified butter to the pan and add in the sliced steak.
Cook for 2-4 minutes or until lightly browned and cooked throughout.
Add ½ of the cooked onions to the top of the beef, season with salt and pepper and mix together until combined.
To Serve: Add the sliced buns cut side down onto the other side of the pan or flat top to heat up and lightly toast.
Evenly divide the sliced cooked steak between the lightly toasted buns and top off with the remaining caramelized onions and cheese sauce.
Serve hot.