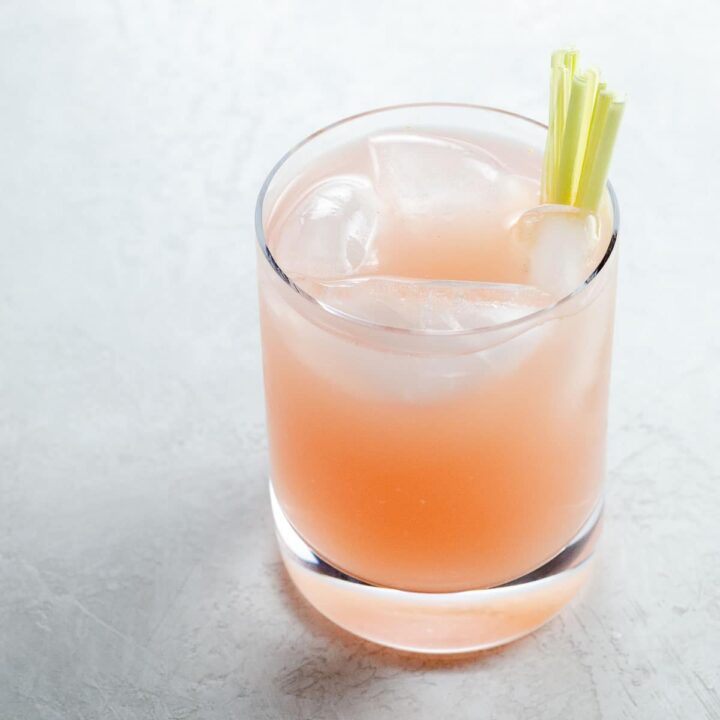 Ingredients
6 stalks fresh lemongrass
3-inch piece fresh ginger
1/4 cup (50 grams) sugar
1 cup (240 ml) vodka
4 cups (950 ml) premium sake
1 1/2 cups (355 ml) freshly squeezed pink or ruby red grapefruit juice
1/2 cup (120 ml) freshly squeezed Meyer lemon juice
Instructions
Trim bottom end and woody top half of each lemongrass stalk, reserving tops to use as garnish. Roughly chop remaining segments and add to a mini food processor.
Roughly chop ginger (no need to peel) and add to food processor along with sugar.
Pulse until ingredients are very finely chopped. 
Transfer lemongrass mixture to a 4-cup glass measuring cup, quart-sized mason jar, or nonreactive bowl.
Pour in the vodka and stir.
Let sit for at least 15 minutes at room temperature — up to a week in the fridge.
Strain vodka into a pitcher through a fine-mesh sieve, pressing down a bit to extract flavor from the solids.
Pour in sake, grapefruit juice, and Meyer lemon juice and give it a stir.
Add two cups of ice.
To serve, pour into glasses filled partway with ice. To garnish, trim woody bits from tops of reserved lemongrass stalks and slice to form a fanlike shape.