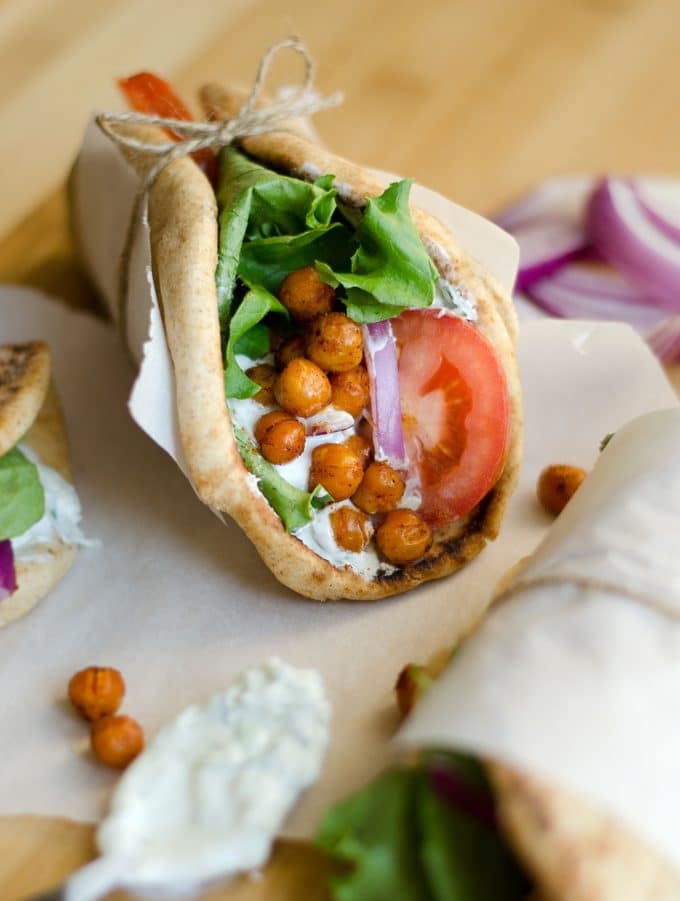 Ingredients
1 15-oz can chickpeas (425 g, 1 ½ cup soaked chickpeas if starting from dry, drained and rinsed)
1 Tbsp olive oil (15 mL)
1 Tbsp paprika*
1 tsp ground black pepper
½ tsp cayenne pepper
¼ tsp salt
4 pita flatbreads
1 cup tzatziki (click for recipe) (250 g, use ⅓ recipe if you're just making it for these gyros)
¼ red onion (cut into strips)
2 lettuce leaves (roughly chopped)
1 tomato (sliced)
Instructions
Prep: Preheat oven to 400°F (204°C). Pat dry chickpeas with paper towel, removing any skins that may come off. Gently toss chickpeas with oil, paprika, black pepper, cayenne pepper, and salt.
Roast: Spread chickpeas onto a greased rimmed baking sheet and roast for about 20 minutes, until lightly browned but not hard.
Assemble: Spread some tzatziki onto one side of the pita, then sprinkle in ¼ of the chickpeas and add veggies. Fold in half and enjoy!