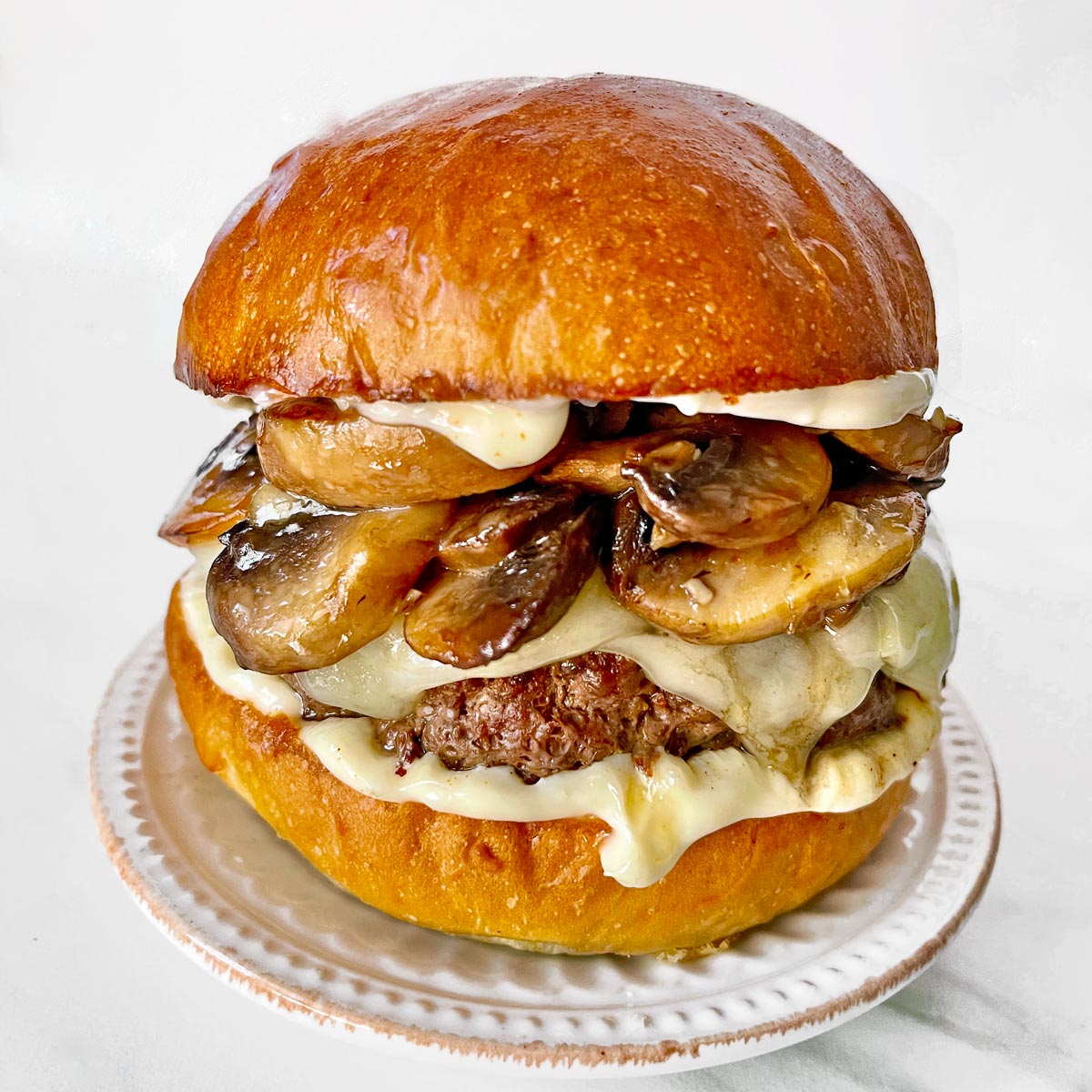 Ingredients
1/2 pound white button mushrooms (sliced thin)
2 tablepoons butter
2 cloves garlic (pressed or grated)
1/4 cup Parmesan cheese
1 tablespoon Worcestershire sauce ((optional))
1/2 to 3/4 pound ground beef (80/20)
1 tablespoon Burger Seasoning (or Montreal Steak Seasoning)
1 teaspoon Paprika (Sweet Hungarian Paprika is best!)
Salt and Pepper to taste
4 slices Swiss cheese
2 Brioche Hamburger Buns (toasted under broiler)
2 tablespoons Mayonnaise or garlic Aioli
Instructions
Form the ground beef into patties, making them a little wider than the bun. Do not overwork the meat or your burgers will be too dense.
Generously sprinkle with burger seasoning, paprika, salt, and pepper to taste. Separate the patties with parchment or waxed paper and refrigerate until 30 minutes before cooking.
For the mushrooms:
Slice the mushrooms and set aside.
Melt the butter or (1 TBS olive oil) in a medium non-stick pan. Add the garlic and cook until the garlic is just fragrant. Be careful not to burn it.
Add the mushrooms to the hot pan with the oil and garlic.
Cook the mushrooms over medium heat to medium-high heat as they release their liquid.
Cook until tender, lightly browned and the liquid has cooked off just leaving whatever melted butter remains.
Remove from heat and add the Parmesan cheese. Stir and return to heat for a minute.
Season to taste with salt, and pepper. Add the Worcestershire sauce if using.
Remove the burger patties from the fridge and grill to preferred internal temperature. Use a bbq grill or stovetop grill pan for best results.
Cook on one side until you get some charring then flip the patties and cook the other side.
Turn off heat and place two slices of cheese atop each patty. Let the cheese melt completely.
Serve the burgers on fresh toasted Brioche or sesame buns, topped with the sauteed mushrooms, mayonnaise or garlic aioli.
Enjoy piping hot!