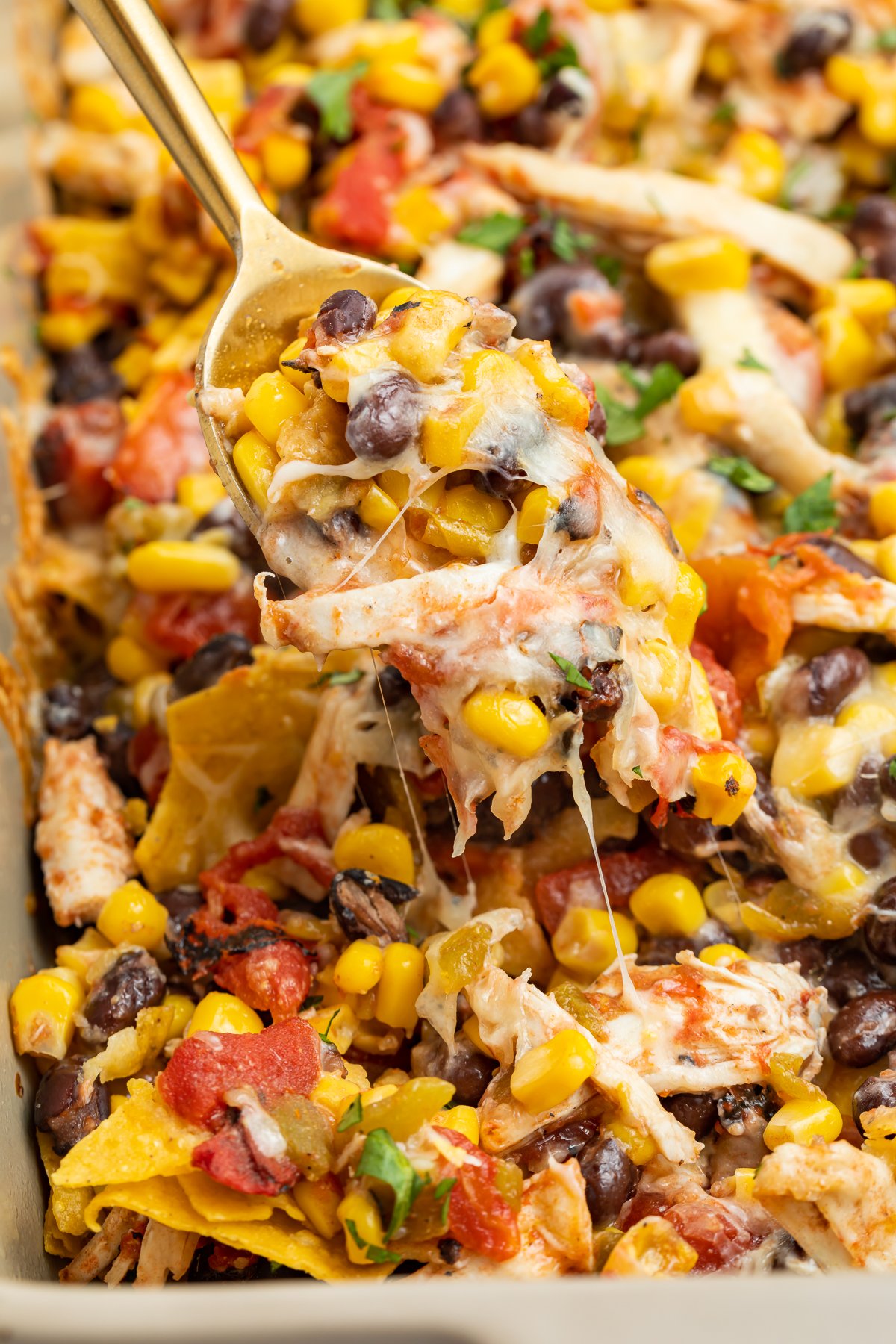 Ingredients
4 cups cooked, shredded chicken
1 15-ounce can black beans (drained, rinsed)
1 14.5-ounce can fire-roasted diced tomatoes
1 15.25-ounce can corn kernels (drained)
1 4-ounce can diced green chilies
1 teaspoon salt (more or less to taste)
1 teaspoon garlic powder
½ teaspoon cumin
3 cups crushed tortilla chips (divided; any brand, any flavor)
2 cups freshly shredded Mexican cheese blend (divided)
chopped fresh cilantro (optional, for serving)
sour cream (optional, for serving)
Instructions
Preheat oven to 350° Fahrenheit. Lightly grease baking dish with cooking spray and set aside.
In large bowl, stir together shredded chicken, black beans, diced tomatoes, corn kernels, green chilies, salt, garlic powder, and cumin until ingredients are thoroughly incorporated. Set aside.
Line bottom of greased baking dish with 1 ½ cups crushed tortilla chips, spreading chips out to cover entire dish in one even layer. Top tortilla chips with half of shredded chicken mixture, spreading mixture out in one even layer. Sprinkle 1 cup cheese over top of chicken mixture. Repeat chips, chicken, and cheese layers until all ingredients have been added to baking dish.
Place baking dish in preheated oven. Bake, uncovered, 25 to 30 minutes or until cheese is melted and bubbly.
Remove baking dish from oven and let cool 10 minutes. Once casserole has cooled slightly, divide into servings and serve warm with chopped cilantro and sour cream if desired.