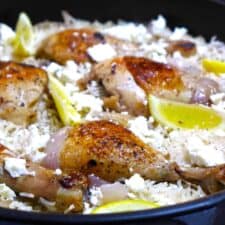 Ingredients
8 chicken legs, bone-in and skin on
1 1/2 cup rice (long grain rice or basmati)
2 tbsps butter
1 small red onion, roughly chopped
3 cups chicken stock
juice of 1 lemon (or more if you prefer)
6-7 peppercorns
salt and freshly ground pepper
2-3 tbsps olive oil
150g/5 oz. feta cheese for garnish (optional)
Instructions
To prepare this Greek rice pilaf recipe with chicken legs, start by washing thoroughly the chicken legs and pat them dry with some kitchen paper. Drizzle the chicken legs with olive oil, season well with salt and pepper and rub using your hands.
Heat a large pan over medium high heat and place the chicken legs inside. Let them colour and cook for about 6 minutes on each side, until the skin is nicely coloured and crispy. Remove the chicken legs from the pan and set side.
Now it's time to prepare the Greek rice pilaf. In the same pan add 1-2 tbsps olive oil and the chopped onions and sauté until soft. Add the butter and rice and sauté the rice until translucent. Pour in the chicken stock and lemon juice and deglaze. Add the chicken legs (skin side up) and season well with salt and pepper.
Place the lid on, turn the heat down and simmer the Greek rice pilaf for about 15 minutes, until the chicken and rice are cooked and all the liquid has been absorbed.
Finish off the Greek rice pilaf with a last minute squeeze of lemon juice, crumbled feta cheese and freshly ground pepper. Enjoy!