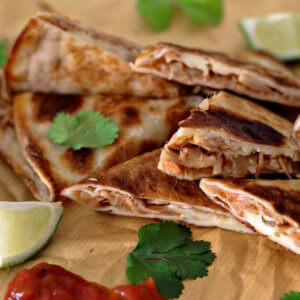 Ingredients
1 medium onion (peeled and diced)
pinch red pepper flakes
2 tablespoons vegetable oil
20 ounce can young jackfruit in brine (drained, rinsed and cut into smaller pieces)
1 package taco, burrito or fajita seasoning
1/2 cup vegetable broth or water
1 package flour tortillas (standard taco size)
butter oil or vegan spread for tortillas
1 cup shredded cheese (use a vegan cheese if preferred)
your favorite toppings: (sliced jalapenos, salsa, guacamole, sour cream, limes, etc)
Instructions
Heat the oil and red pepper flakes in a large skillet. Saute the onions until they change color.
Reduce the heat and add the sliced jackfruit and as much of the fajita seasoning as desired (I used about 1/2 the package). Stir in the vegetable broth and simmer for five minutes or so.
At this point take a potato masher and break up the jackfruit into smaller pieces.
Reduce the heat to very low and cook for another 10 minutes or until all the liquid has been absorbed. The mix should be wet but not runny. Remove from the heat and set aside.
Spread one side of a tortilla with a small amount of butter, oil or vegan spread.
Warm a large skillet over medium heat and toast the tortilla, butter side down, for one or two minutes or until it takes on a golden brown color.
Spread one half of the tortilla with 3 or 4 tablespoons of jackfruit and some shredded cheese. Fold the other half of the tortilla over top. Continue to toast until the cheese has melted.
Alternately, you could spread jackfruit over the entire tortilla, add cheese, then top with another buttered tortilla. Flip the quesadilla and allow the second side to brown while the cheese melts.
Repeat with the remaining tortillas, jackfruit and cheese.
To serve, slice the quesadillas into wedges and serve your favorite toppings.