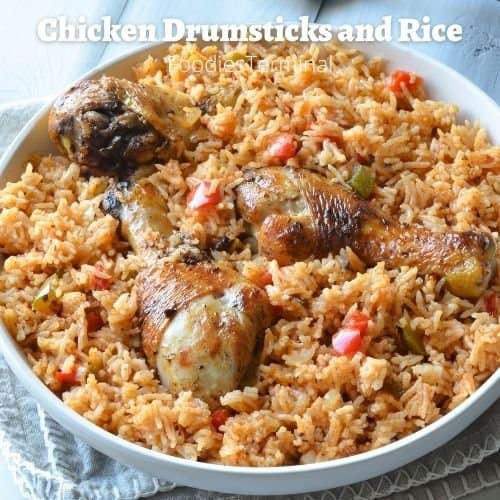 Ingredients
5 chicken drumstciks (**skin on. You can use 6 or 8 drumsticks. The recipe, cook time would remain the same.)
2 cups Basmati Rice (**white basmati rice rinsed very well and drained.)
1 cup onion (**yellow onion roughly chopped.)
1/2 tbsp garlic (**minced)
1/2 green bell pepper (**roughly chopped. Use a medium bell pepper.)
1/2 red bell pepper (**roughly chopped. Use a medium bell pepper.)
2 tbsp tomato paste
2 tbsp lemon juice (**freshly squeezed.)
2 tbsp butter
1 tbsp Olive Oil (**use extra light or light olive oil.)
salt (**add according to your own personal taste preference.)
1/2 tsp Paprika (**sweet paprika.)
1/2 tsp oregano
1/2 tsp Ground Black Pepper
1/2 tsp red pepper flakes (**skip if heat intolerant.)
1/2 tbsp Better Than Bouillon (**chicken base. )
3.5 cups water
Instructions
Prep & sear chicken drumsticks
Pat dry the chicken drumsticks with kitchen towel. Add lemon juice and all the dry seasoning mentioned above in the ingredients section as "Dry rub for chicken". Rub the chicken legs to coat them well with the seasonings.
Set instant pot on Saute mode set at NORMAL heat. Add butter & olive oil. When they begin to become hot gently release the chicken drumsticks and sear them until golden on all sides. Once done, set them aside on a plate with the help of a pair of tongs. You'll have lots of brown bits stuck at the bottom of the pot due to the ssearing process. Don't worry, we'll be deglazing the pot in the next step and the brown bits will help boost the flavor of the dish.
Deglaze pot
Lower the heat to LOW mode on SAUTE settings. You can do this by pressing the SAUTE button more than once. Throw in the onion & garlic and saute for 30 seconds. Add salt according to your personal taste preference, salt will help soften the onion quickly. Now throw in the bell peppers and saute for 30 seconds.
Stir the better than bouillon chicken base + the tomato paste into the warm water and pour this into the pot. Immediately deglaze the pot by scraping the sides and the bottom of the pot with the help of a spatula. This will help loosen every bit of stuck food particles from the bottom of the pot and prevent the BURN error! DO NOT rush this step. You need to deglaze the pot until every stuck food particles is scraped off.
Pressure cook
Cancel the saute mode. Rinse the white basmati rice several times under running tap water until clear water runs through. Drain the rice in a colander or strainer and add it to the instant pot. Give everything a quick stir. Now layer the seared chicken drumsticks on top of the rice in a single layer. DO NOT stir or mix.
Secure the lid of the instant pot, seal the valve and PRESSURE COOK on HIGH for 5 mins. Once the cooking cycle is over the instant pot will begin to beep, allow 10 mins natural pressure release and than release the rest of the pressure manually by moving the valve from the sealing to the venting position. Once the floating metal pin on top of the lid drops open the lid carefully. Fish out the chicken drumsticks and gently fluff the rice with the help of a pair of forks. Serve the chicken legs and rice garnished with lemon juice and fresh chopped parsley. Enjoy!