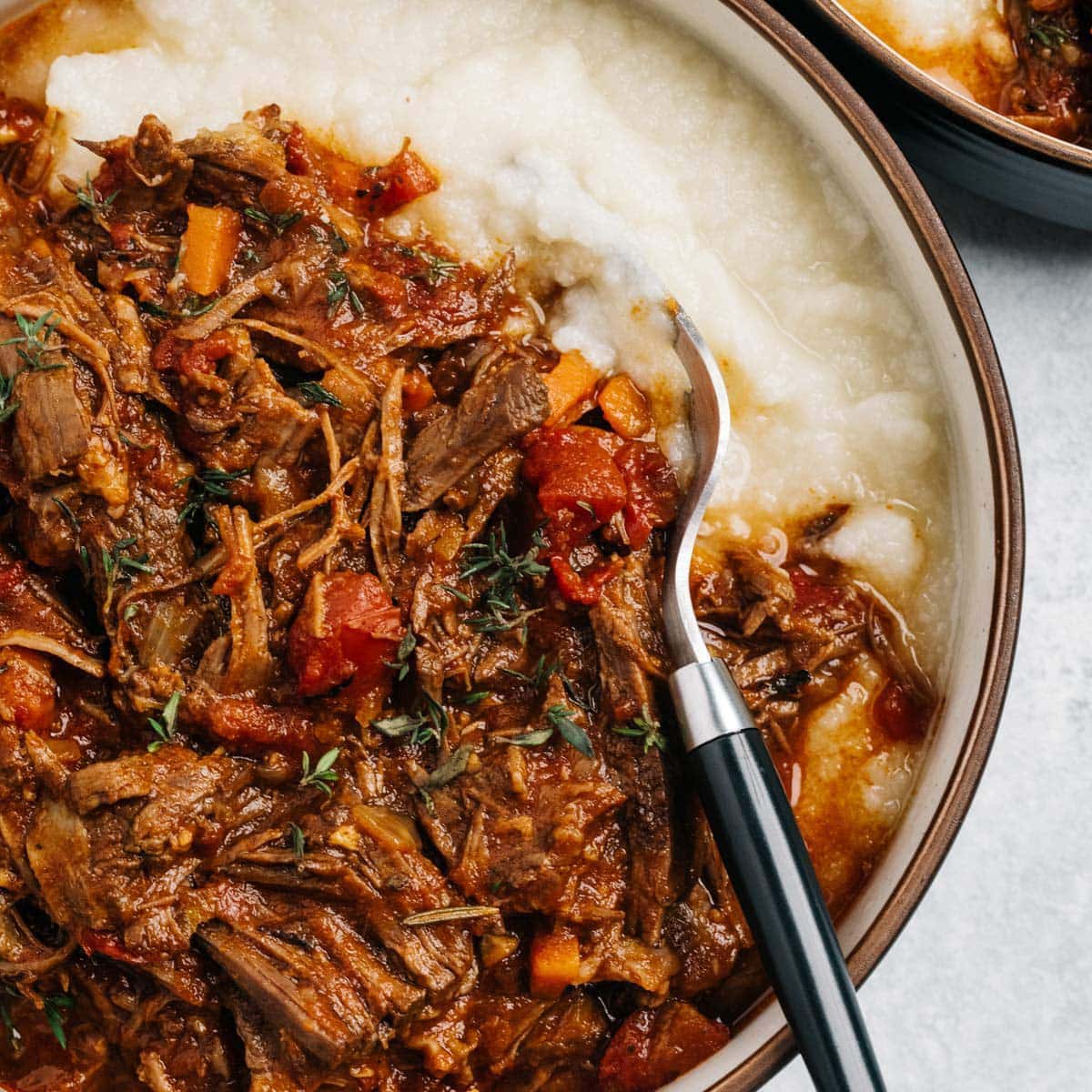 Ingredients
3 lb chuck roast (cut into 3" chunks, large fat deposits trimmed)
2 tsp sea or kosher salt
2 tsp cracked black pepper
3 tbsp avocado oil (or bacon fat or olive oil; divided)
1 sweet onion (diced to ½")
2 medium carrots (diced to ½")
4 cloves garlic (smashed and chopped)
2 tbsp tomato paste
1/2 c beef broth
1 tbsp balsamic vinegar
1 28-oz can crushed tomatoes
1 whole bay leaf
2 sprig fresh thyme
1 sprig fresh rosemary
Instructions
Slice the chuck roast into 3" pieces, trimming large fast deposits as you go. Pat dry, then season with salt and pepper.
Set the Instant Pot to the "sautee" function and adjust the timer to 25 minutes.
Add 2 tbsp cooking fat and heat until it shimmers. Place half the seasoned chuck roast pieces into the pot and brown 3-4 minutes per side, until well-browned and crust forms. Remove the meat, set onto a plate, and repeat with the remaining pieces. Set all browned meat aside.
Add the remaining tablespoon cooking fat, as well as the onions and carrots. Saute, stirring occasionally, until the vegetables are soft, 5-6 minutes. Add garlic and saute until fragrant, about 1 minute. Add tomato paste and stir until it's worked into the vegetables.
Add the beef broth and balsamic to deglaze the pot. Stir until all browned bits are scraped from the bottom and incorporated into the liquid. Press the "cancel" button to stop the sautee feature.
Add crushed tomatoes, then give the sauce a good stir. Nestled the browned meat into the tomato mixture, then top with bay leaf, thyme, and rosemary (tie the fresh herbs with twine for easy stem removal).
Secure the lid and ensure the vent is set to "sealing". Set to "high pressure" for 40 minutes. Allow the pressure to release naturally for 10 minutes, then perform a quick release and wait until the float valve has dropped.
Remove the lid, positioning it away from your body as there will be significant steam. Remove the beef to a plate using tongs, then fish out the bay leaf and herb stems. Shred the beef using two forks, then return the shredded meat back to the pot and mix into the sauce.
For Whole30, serve over cauliflower mash or roasted spaghetti squash. Alternatively, serve over polenta or pappardelle noodles.