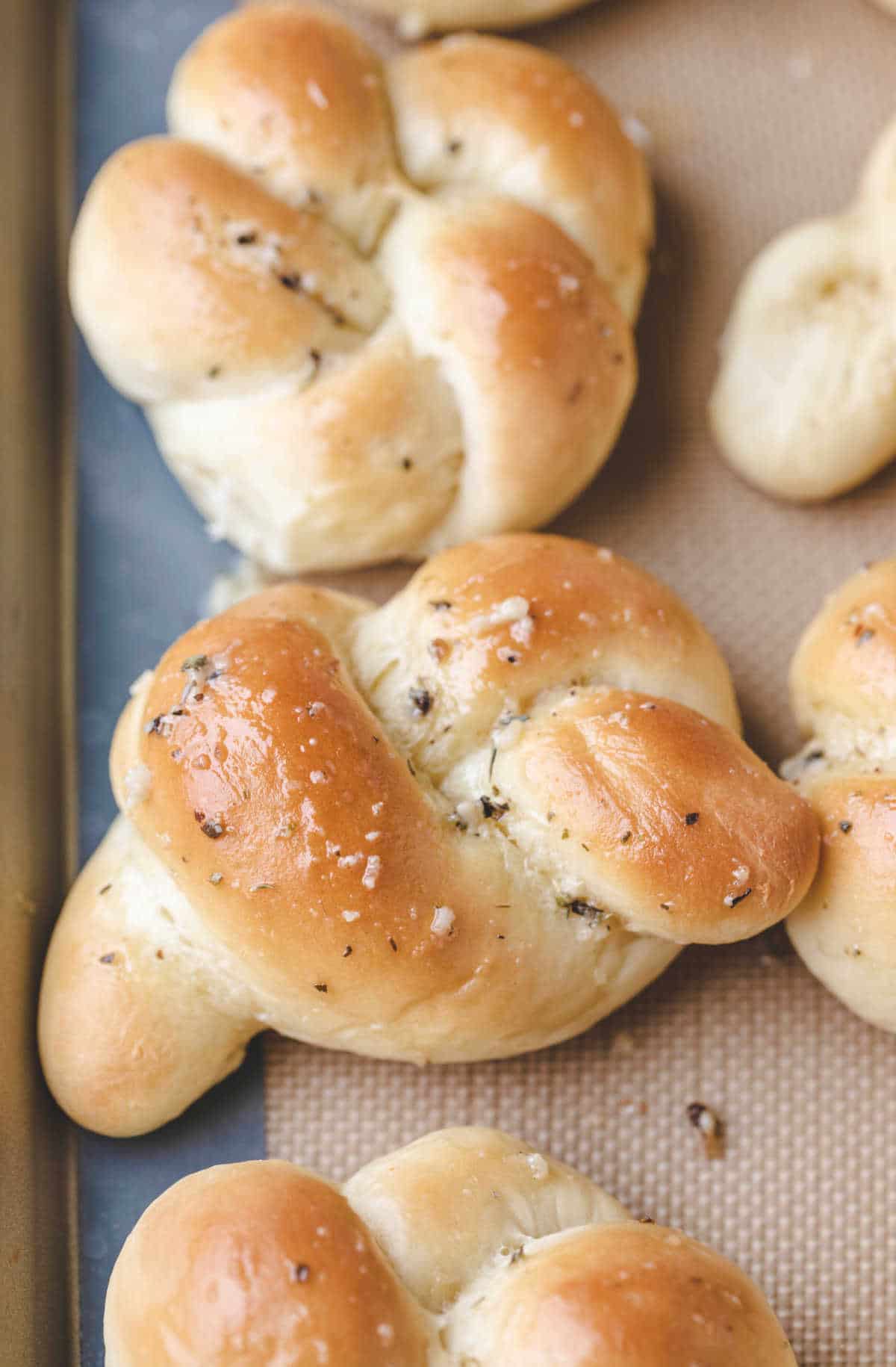 Ingredients
1/4 cup butter
1 cup milk
2 tablespoons instant yeast
1 tablespoon honey
1/2 teaspoon salt
1 large egg
3-3 ½ cups all-purpose flour
2 tablespoons butter
2 cloves garlic (minced)
1/2 teaspoon Italian seasoning
1/4 teaspoon garlic powder
3-4 tablespoons grated Parmesan or Romano cheese (optional)
Instructions
Preheat oven to 400 Line a 9x13-inch rimmed cookie sheet with parchment paper or a silicone baking liner. Set aside.
In a small saucepan, melt butter.
When butter is mostly melted, stir in milk, and heat mixture to 100-110 F.
Meanwhile, add yeast and honey to the bowl of a stand mixer fitted with a paddle attachment (or a large mixing bowl if mixing by hand).
When milk mixture is at temperature, add to yeast and honey; stir to combine.
Add salt and egg, and stir until combined.
Stir in 2 ½ cups of flour.
Add remaining flour until dough clings to paddle and cleans the sides of the bowl.
Switch to the dough hook, and knead for 2 minutes (or by hand for about 5 minutes).
With lightly floured hands, shape dough into 12 knots, and place dough on prepared baking sheet.
Cover, and let dough rest for 10 minutes.
Bake for about 9-12 minutes, or until lightly golden brown.
While the knots are baking, prepare the garlic butter.
In a small bowl, stir together ingredients for garlic butter.
After removing the rolls from the oven, brush with garlic butter, sprinkle with cheese if using, and enjoy!