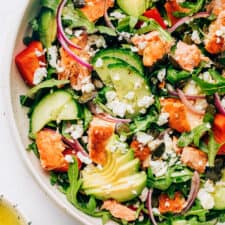 Ingredients
1 pound salmon filets
fine sea salt and freshly-cracked black pepper
1 tablespoon olive oil
2 ounces fresh arugula
1 large red bell pepper, chopped into bite-sized pieces
half of an English cucumber, sliced into bite-sized pieces
half of a small red onion, thinly sliced
2/3 cup roasted pepitas
1/2 cup crumbled feta cheese
1 batch Everyday Dressing*
1 avocado, sliced or diced
Instructions
Season the salmon with a few generous pinches of salt and pepper. Heat the olive oil in a large non-stick sauté pan. Place the salmon filets flesh-side down and cook undisturbed for about 3-4 minutes, or until golden. Flip and cook the other side for about 2-4 more minutes, until the salmon reaches your desired level of doneness and flakes easily with a fork. (Cooking time will also depend on the thickness of the salmon.) Transfer salmon to a clean plate and set aside.
Combine the arugula, bell pepper, cucumber, red onion, pepitas, feta and cooked salmon in a large mixing bowl. Drizzle evenly with the dressing, then gently toss to combine.
Serve immediately, topped with the avocado plus extra feta and/or pepitas, for garnish.