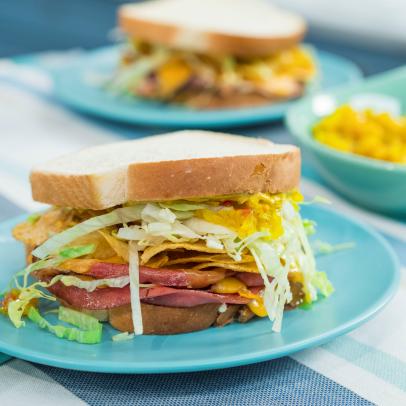 Ingredients
2 slices soft white sandwich bread, such as Wonder Bread
Mayonnaise, for spreading 
Yellow mustard, for spreading 
4 thin slices bologna (preferably nitrate-free and pork) 
Unsalted butter, for the skillet
2 slices American cheese 
2 tablespoons chow chow 
1/2 cup BBQ potato chips 
1/2 cup shredded iceberg lettuce 
Instructions
Spread one slice of bread with mayonnaise and the other slice with yellow mustard.
Heat a medium skillet or griddle pan over medium-high heat. Make a 1-inch X in the center of each piece of bologna to keep it from curling up in the skillet. Wipe the skillet with a stick of butter until lightly greased. Add the bologna and fry a couple of minutes on each side until browned. Stack up the bologna in the skillet and top with the cheese. Cover with a large inverted bowl and heat until melted.
Transfer the bologna to one of the slices of bread. Top with the chow chow, potato chips and lettuce. Top with the other slice of bread and give it a little push to crush the potato chips down a bit. Enjoy immediately.