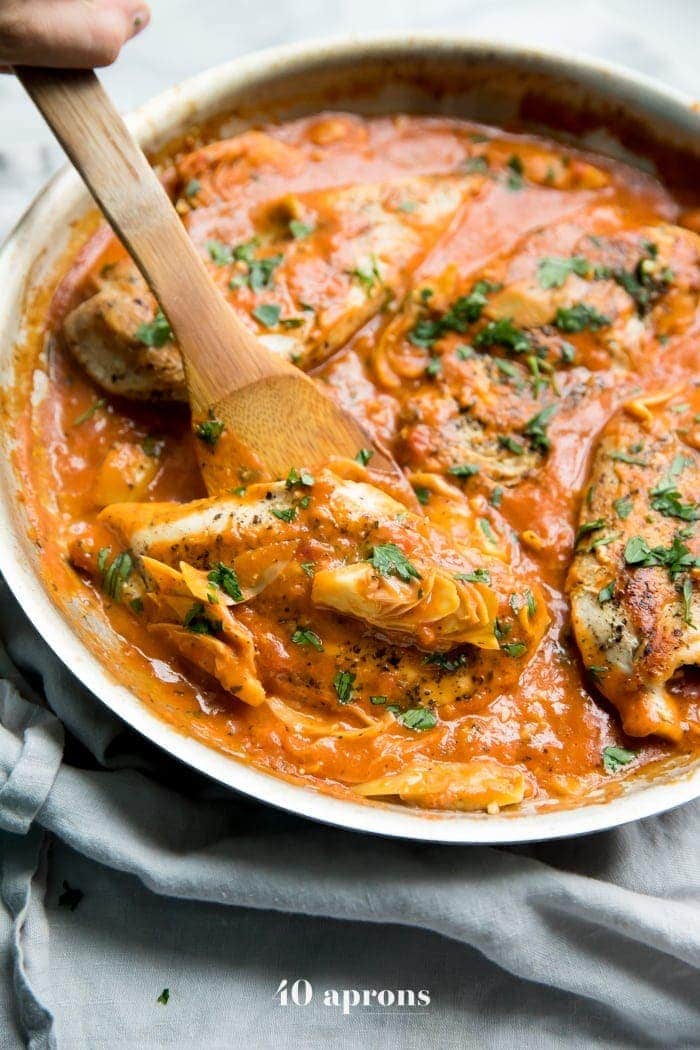 Creamy Tomato Artichoke Chicken (Whole30, Paleo, Dairy Free)
From 40aprons.com
Ingredients
4 teaspoons avocado oil (or other neutral oil, divided)
4 medium boneless, skinless chicken breasts (approximately 6 ounces each, see Notes)
2 teaspoons dried basil (divided)
2 teaspoons salt (divided, more or less to taste)
¼ teaspoon freshly ground black pepper (more or less to taste)
2 cloves garlic (minced)
1 14.5-ounce can crushed tomatoes
1 14-ounce can artichoke hearts (drained)
½ cup coconut cream (see Notes)
chopped fresh parsley (or chopped fresh basil, for garnish)
Instructions
Place chicken breasts on cutting board and pat chicken dry on all sides with paper towels.
In small bowl, whisk together 1 teaspoon dried basil, 1 teaspoon salt, and ¼ teaspoon freshly ground black pepper, until ingredients are well distributed. Liberally season chicken breasts on all sides with spice mixture. Set chicken aside.
Heat large skillet over medium-high heat. When skillet is hot, add 2 teaspoons avocado oil and swirl pan to coat bottom with oil. Heat oil over medium-high heat until oil is hot and shimmering.
When oil is hot, add seasoned chicken breasts to skillet. Cook chicken, undisturbed, 8 minutes, or until bottom of chicken is golden brown and releases easily from skillet. If chicken sticks to skillet, continue cooking until chicken releases easily.
When chicken is ready, flip chicken breasts over and cook until chicken is cooked through, approximately 3 minutes. Internal temperature of chicken should read 160° to 162° Fahrenheit according to internal meat thermometer. Transfer cooked chicken to plate and set aside.
Move skillet from heat and let cool 2 to 3 minutes, then return skillet to heat. Add remaining 2 teaspoons avocado oil to skillet and swirl pan to coat. Heat oil over medium-high heat until oil is hot and shimmering.
Add minced garlic to hot oil. Sauté garlic, stirring constantly, just until garlic is fragrant, approximately 30 to 60 seconds.
When garlic is fragrant, add crushed tomatoes, artichoke hearts, and coconut cream to skillet. Gently stir until ingredients are fully combined and cream is completely incorporated. Let mixture come to low boil, then reduce heat and simmer until sauce is thickened, approximately 5 minutes.
Return chicken breasts to skillet and spoon sauce over tops of chicken. Simmer just until chicken is warmed through, then garnish chicken with chopped parsley or basil. Serve warm with desired sides and plenty of sauce.