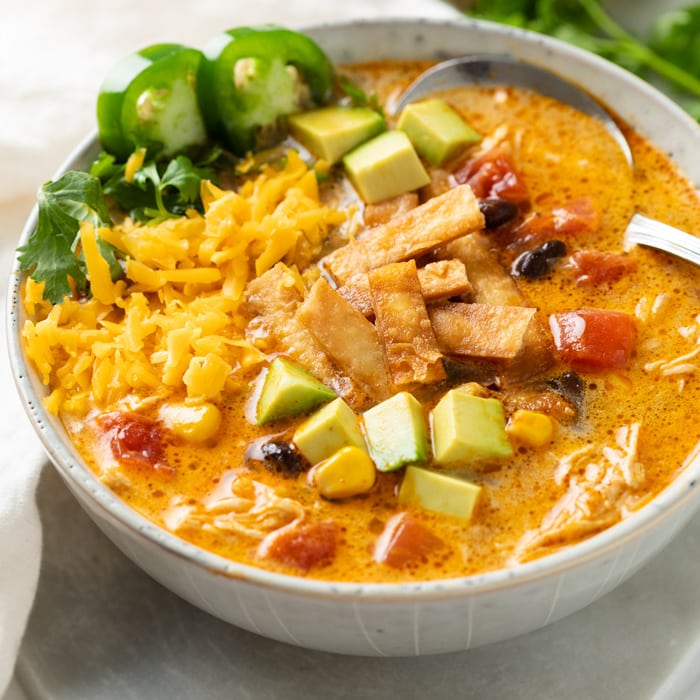 Ingredients
2 Tablespoons butter
1 small yellow onion (diced)
1 jalapeno pepper (diced)
3 cloves garlic (diced)
1 Tablespoon tomato paste
1 15 oz. can corn (drained)
1 10 oz. can Rotel diced tomatoes with green chilies (undrained)
1 15 oz. can black beans (drained and rinsed)
5 cups chicken broth
2 small boneless skinless chicken breasts (or 2 cups shredded chicken)
1 pinch Cayenne Pepper
1 teaspoon cumin
1-2 teaspoons hot sauce
1 oz. packet taco seasoning (equal to 3 Tbsp.)
1 ½ cups cheddar cheese (shredded)
1/3 cup cream cheese (softened)
Corn or Flour Tortillas (See notes)
Instructions
Heat 2 Tbsp. butter over medium heat and add the diced onions and peppers. Sauté for 4 minutes, then add the garlic and cook for 1 more minute.
Add all remaining ingredients EXCEPT for the cheddar cheese, cream cheese, and garnish ingredients. I also recommend starting with 2 Tbsp. of Taco Seasoning and add more to taste toward the end if preferred. (I end up using all of it.)
Let the soup gradually come to a gentle bubble, partially covered. If the chicken boils rapidly, it becomes tough. Cooking it slowly keeps it nice and juicy.
Remove the chicken after 20-25 minutes, once cooked through. (Timing depends on the thickness of the chicken.) Use 2 forks to shred, then return to the soup.
Reduce heat to low and gradually sprinkle in the shredded cheese and softened cream cheese. Stir until smooth and creamy.
Taste and add any additional seasonings as needed. Garnish and serve!