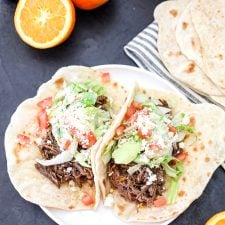 Ingredients
1 teaspoon cumin
1 teaspoon garlic powder
½ teaspoon onion powder
½ teaspoon chili powder
¼ teaspoon paprika
1 teaspoon salt
3 pounds chuck roast
1 tablespoon oil
1 cup chopped onion
1 tablespoon minced garlic
½ cup orange juice
1/2 cup beef broth
1 tbsp tomato paste
1 teaspoon orange zest
Salt
Instructions
1.In a small bowl combine cumin, garlic powder, onion powder, chili powder, paprika and salt.
2.Chop chuck roast into about 4-6 large cubes.  Rub spice mixture all over the meat.
3. Meanwhile, turn the instant pot on saute and let it get warm.  Add oil the pot then add in onion and garlic. Saute onion and garlic for about 1 minute, stirring a few times.
4. Add in beef and sear on each side for about 30 seconds a side then remove and set aside.
5. Turn off instant pot, add in orange juice, beef broth and tomato paste, stir to combine and add back in the beef.
6. Then place the lid on and make sure the knob is on sealing.
7. Turn the instant pot on manual high pressure for 60 minutes.
8. When it is done cooking, let it naturally release pressure for 5 minutes, then turn the knob to venting to release the rest of the pressure.
9. Remove all of the meat to a baking sheet and shred it with 2 forks.  Scoop about a cup of the liquid in the instant pot over the shredded beef, then add orange zest and toss to combine.  Season with salt as needed and feel free to add more liquid if you would like!