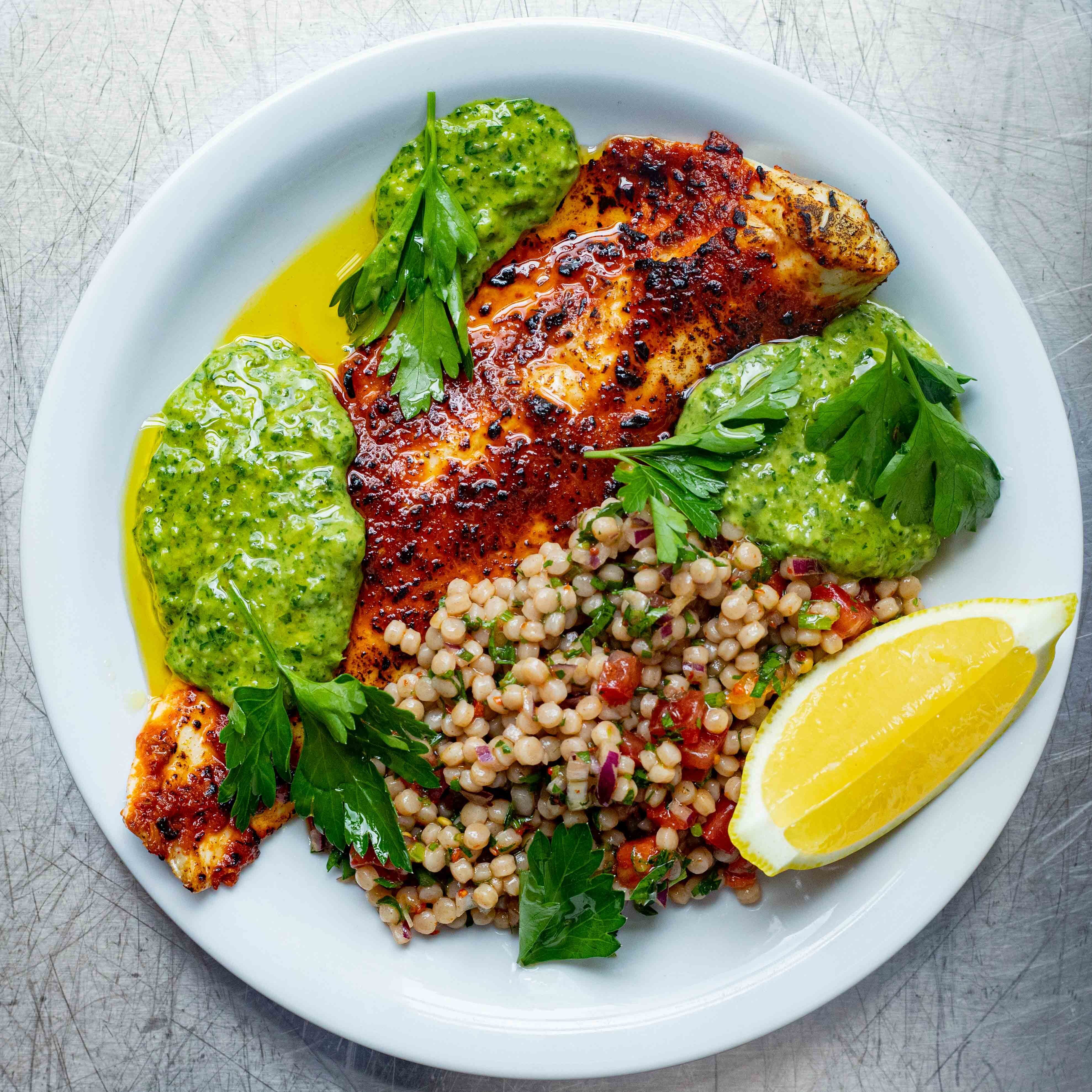 Ingredients
4 Sea Bass Fillets
300g Fregola
2 Lemons
25g Tarragon
25g Parsley
300g Tomatoes
1 Red Onion
1 Tbsp Paprika
3 Garlic Cloves
200g Sun-Dried Tomatoes
1 Large Tomato
½ Tin of Anchovies
1 Tsp Dijon Mustard
1 Tsp Capers
25g Parsley
25g Tarragon
1 Lemon
Olive Oil
Instructions
Make the tomato marinade. Add the paprika, garlic, sun-dried tomatoes, and diced tomato into a blender or food processor with a tbsp of olive oil. Blend until it forms a paste. Rub the paste over the white flesh of the sea bass and set aside in the fridge for 10-15 mins.
Make the salsa verde by blitzing the herbs, anchovies, Dijon and juice of the lemon to make a thick and chunky paste. Add enough olive oil to make it drizzle-able consistency, then season well and set aside.
Rinse the giant fregola in a sieve until the water runs clear, then tip into a saucepan. Cover with boiling water, season with salt and place over a high heat. Bring to the boil and cook according to packet instructions. Drain and rinse with cold water, then tip into a bowl. Add the juice of the lemon. Roughly chop the soft herbs and toss them through, then finely dice the tomato and onion, add to the mix and season well. Add 1-2 tbsp olive oil.
Preheat the grill to high. Slide the marinated fish under the grill, flesh side up and cook for 3-4 mins. The marinade will char a little and the flesh beneath will cook through. To check if the flesh is cooked, you can pop a skewer in, if it passes through the fish with no resistance, you're all good!
Spoon the fregola onto plates, top with the sea bass, drizzle with salsa verde. Scatter with a few extra herb leaves and top with a crack of black pepper. Slice lemon wedges and serve with the fish.