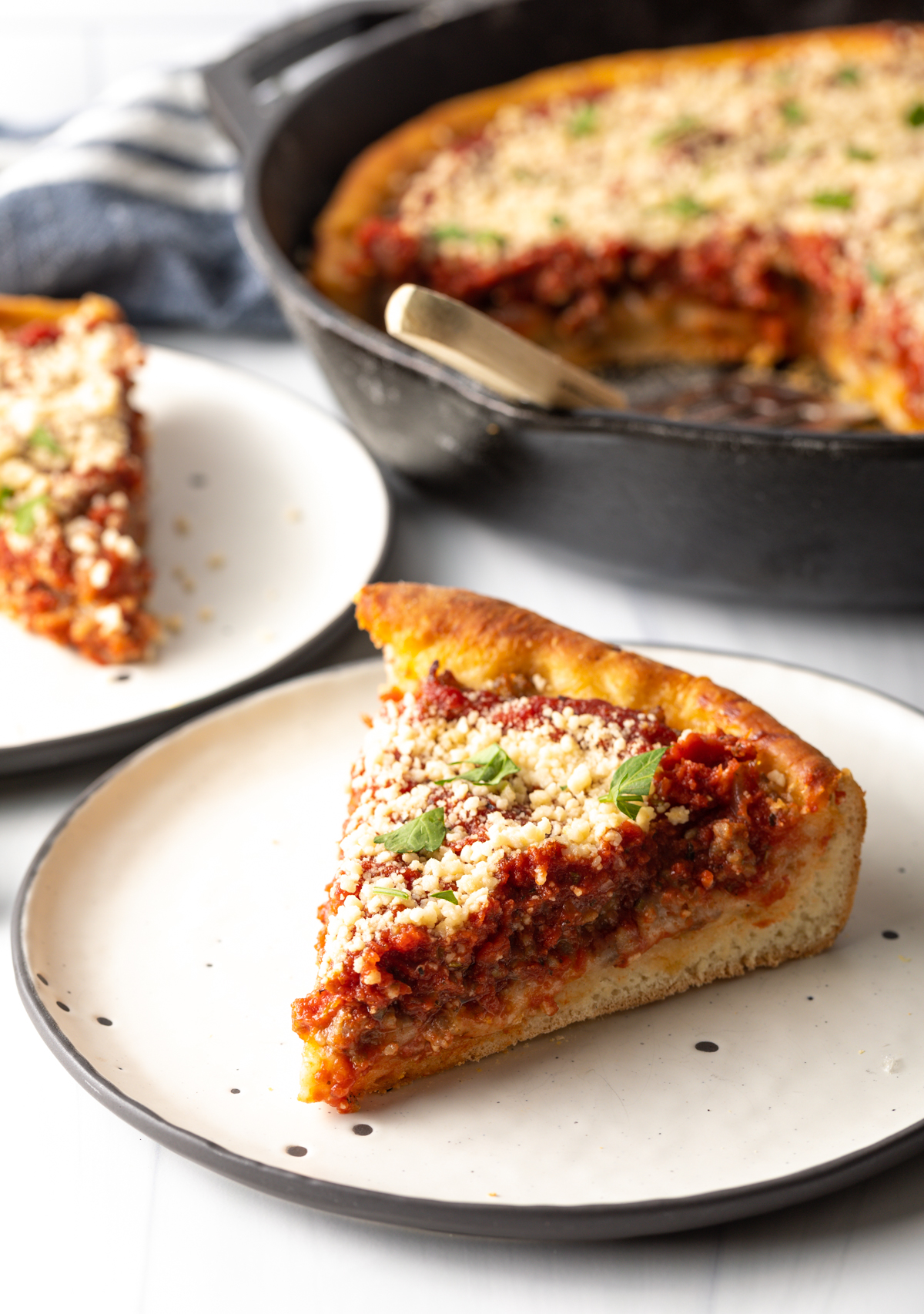 Ingredients
1 tablespoon olive oil
1 tablespoon cornmeal
1 pound pizza dough (homemade or store-bought)
3 tablespoons butter
¼ cup chopped onion
2 cloves garlic (minced)
28 ounces crushed tomatoes
1 tablespoon Italian seasoning
1 ½ teaspoons granulated sugar
1 teaspoon salt
1 pound Italian pork sausage (cooked)
2 cups shredded Italian cheese blend
¼ cup grated parmesan cheese
1 tablespoon chopped parsley
Instructions
Set out a large 12-14 inch deep-dish cast iron skillet. Brush the skillet with olive oil, then sprinkle the bottom with cornmeal. Flour a clean work surface and roll the pizza dough out into a circle, 2 inches wider than the bottom of the skillet. (So a 14-inch circle for a 12 inch skillet.) Move the crust to the skillet and press the dough around the sides of the skillet. Let it rest while you make the sauce.
Preheat the oven to 425 degrees F. Move one rack to the lowest position.
Set a separate skillet over medium heat. Add the sausage and break it apart with a wooden spoon as it browns. Once cooked, turn off the heat and set aside.
Set a medium saucepot over medium heat. Add the butter, chopped onion, and garlic. Sauté for 3-4 minutes to soften. Then add in the crushed tomatoes, Italian seasoning, sugar, and salt. Simmer for 5 minutes.
Spread the shredded cheese in an even layer over the bottom of the pizza crust. Cover the cheese with the cooked sausage. Gently pull the edges of the pizza crust up the create a rim around the fillings. Then spread the chunky tomato sauce over the sausage.
Bake on the lowest rack for 25-30 minutes, until the edges are golden-brown.
Once out of the oven, sprinkle the top with parmesan cheese and parsley. Cut and serve.