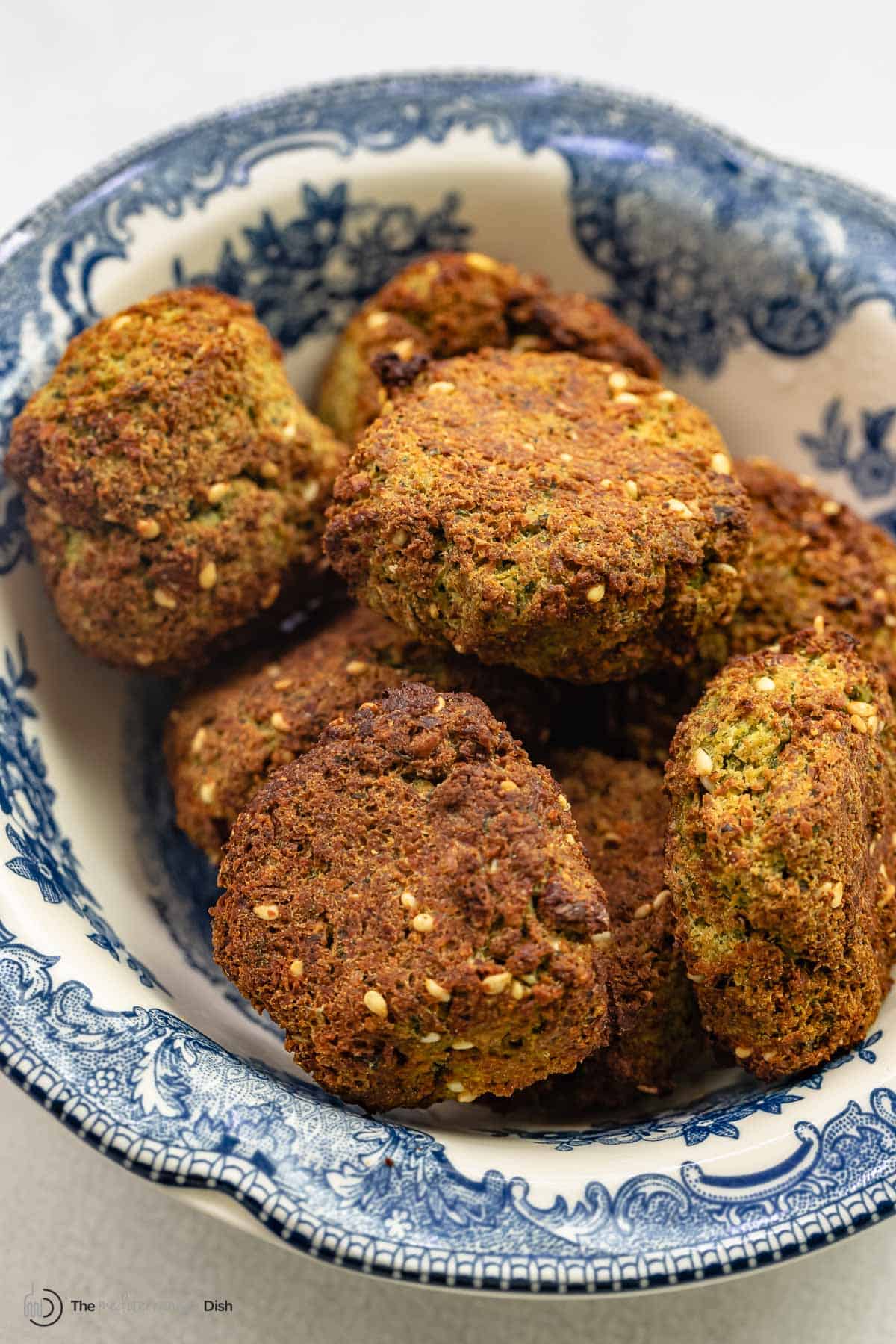 Ingredients
2 cups dried chickpeas, (Do NOT use canned or cooked chickpeas)
½ tsp baking soda
1 cup fresh parsley leaves, (stems removed)
¾ cup fresh cilantro leaves, (stems removed)
½ cup fresh dill, (stems removed)
1 small onion, (quartered)
7-8 garlic cloves, (peeled)
Salt to taste
1 tablespoon ground black pepper
1 tablespoon cumin
1 tablespoon coriander
1 teaspoon cayenne pepper, (optional)
1 teaspoon baking powder
2 tablespoon toasted sesame seeds
Instructions
Soak the chickpeas. (One day ahead of time.) Soak your dried chickpeas in a large bowl of water with the baking soda (the water must cover the chickpeas by at least 2 inches). Set aside for 18 to 24 hours until the chickpeas have softened and plumped up. Drain well.
Make the falafel dough or mixture. Add the chickpeas, herbs, onions, garlic and spices to the large bowl of a food processor fitted with a blade. Run the food processor in 40-second increments until everything is well blended and you have a mixture that is similar in texture to coarse cornmeal.
Refrigerate the mixture. Transfer the mixture to a container and cover tightly. Refrigerate for at least 1 hour or (up to overnight).
Add baking powder and mix. Before air frying, add the baking powder and toasted sesame seeds to the falafel "dough" and stir with a spoon.
Form falafel patties. Scoop a couple tablespoonfuls of the falafel mixture into your palms and form into disks or patties (about ½-inch thickness). It helps to have wet hands as you form the patties so they don't stick too much. Do not pack the patties too much, so they don't turn out too dense.
Arrange the falafel patties in the air fryer basket. Lightly brush one side of the falafel patties with olive oil. Add them to the basket (oiled side down), and brush the top of the patties with olive oil as well. Don't crowd the basket, allow the patties enough room so they become crisp as they cook. (Work in batches as needed).
Set the air fryer to 400 degrees F and air fry the falafel. Air fry the patties at 400 degrees F one side for 5 minutes, then check if they have gained some color. If not, close the basket and cook for another 3 to 5 minutes or until the ones side has turned nice and golden brown to your liking. Turn the patties and air fry on the other side.