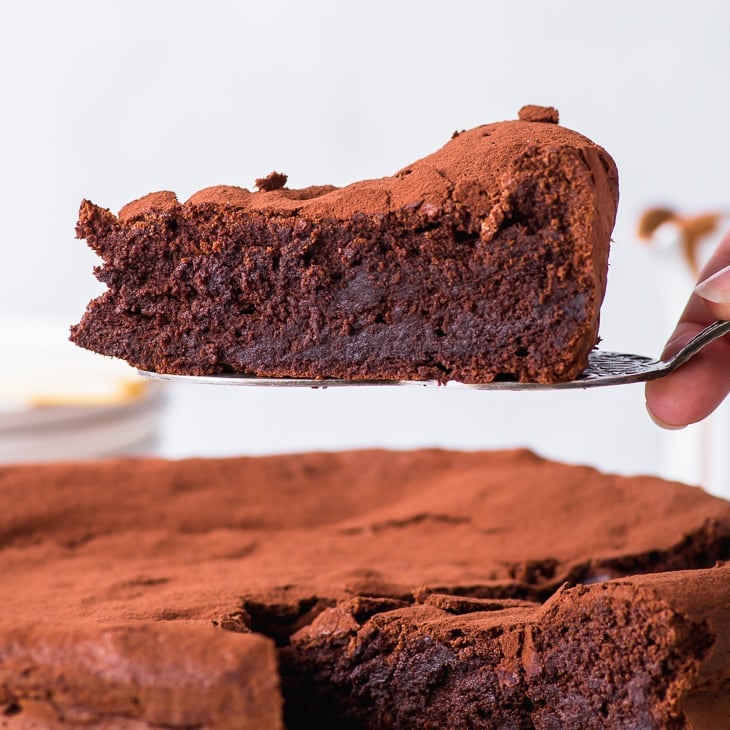 Ingredients
10 1/2 oz (300 g) dark chocolate, chopped
1 1/4 stick (140 g) unsalted butter, cubed
8 medium eggs, separated
1 cup (200 g) granulated sugar
1/3 cup (40 g) cocoa powder
1/2 tsp salt
Instructions
Pre-heat the oven to 355 ºF (180 ºC) and line a 9 inch (23 cm) springform pan with baking/greaseproof paper.
In a heat-proof bowl above a pot of simmering water, melt the chocolate and butter together until smooth. Set aside and allow to cool slightly.
Add the 8 egg yolks to the melted chocolate add whisk well. Then, add the cocoa powder and salt, and mix until combined. At this stage, the batter will appear quite stiff and grainy because of the cocoa powder – that's okay.
Using a stand mixer with the whisk attachment or a hand mixer with the double beaters attachment, whisk the egg whites and sugar together until they form stiff peaks (a meringue).
Fold 1/3 of the meringue into the chocolate batter to loosen it up. Then, gently fold in the remaining 2/3 of the meringue, being careful not to lose too much of the air trapped in the whipped egg whites. The final chocolate cake batter will have the appearance of a chocolate mousse (see photos in post).
Transfer the cake batter into the prepared baking tin and smooth out the top.
Bake at 355 ºF (180 ºC) for about 30 minutes or until risen and a crackly crust has formed on top. If you insert a skewer or toothpick into the centre of the cake, it shouldn't come out clean – instead, it should have some half-baked batter and moist crumbs attached.
Allow to cool in the springform pan for 5 - 10 minutes, then release it from the pan and allow to cool completely.As the cake cools, it will sink and collapse slightly in the middle. Because it doesn't contain any flour, it will naturally have less structure, so the sinking is fully to be expected. (In fact, it gives it even more character!)
Dust with some cocoa powder or powdered sugar, and serve. Enjoy!
The flourless chocolate cake keeps well in a closed container in a cool dry place for up to 5 - 6 days.